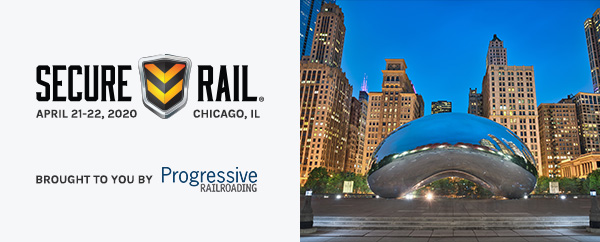 Secure Rail 2020 Call for Presenters
We are excited to announce Secure Rail is moving to Chicago, IL for its 6th annual conference April 21-22, 2020. If you're an expert in rail security, we want to hear from you! We're currently seeking subject matter experts eager to share their knowledge and expertise on all things rail security. If you have a vision or perspective on a certain topic or emerging trend, and a passion for spreading education and awareness, then you belong behind the podium at Secure Rail 2020.
Deadline to submit is December 6, 2019.
Possible Presentation Topics Include:
Railroad security
Emergency preparedness
Hazmat transportation
Positive train control
IT
Signaling and communications
Border control
Bridges and tunnels management
Capital infrastructure programs
Information Needed to Submit:
Abstract - Limit of 50 words. Provide the title and abstract as it should appear in conference materials. The conference committee has the right to edit titles and abstract for content and/or length.
Learning Objectives - Supply 4 learning objectives based on the presentation and content.
Presentation Outline - One page or less.
Presenter Biography - Limit of 50-word biography per presenter.
Session Details:
Most sessions are 30-45 minutes; please allow 5-10 minutes for audience discussion.
Lecture, case study and panel sessions are the most common formats; panels should include no more than three panelists and one moderator.
PowerPoint presentations are encouraged and should be designed for readability by an audience of 100 or more. A Secure Rail template will be made available to presenters selected.
Secure Rail presentations are provided to attendees online after the conference. Presenters must submit their materials by March 23, 2020.
For more information contact:
Gina Doyle
Events & Education Manager
414.228.7701 ext. 459