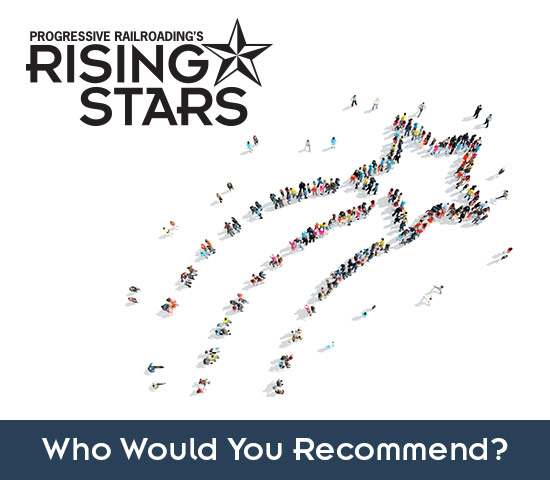 At Progressive Railroading we are star watching for the sixth annual "Rising Stars" event. This award designates distinguished leaders in North America's railroad industry. Star watch with us! Who would you recommend for this prestigious award? It could even be YOU!

A "Rising Star" is:
Under the age of 40 on or before on Sept. 1, 2018
Making a positive impact on the company, organization, department or team
Viewed by peers, colleagues, supervisors, clients, etc. as exceptional in the rail industry.

Progressive Railroading is seeking 20 Rising Stars. Winners will be recognized on July 22, 2018, at a celebratory dinner during the AARS Annual Conference at the W Lakeshore Hotel in Chicago. Additionally, each nominee will have their profile published in the September 2018 issue of Progressive Railroading magazine.

Deadline for nominations is Feb 18, 2018


Do you have questions about the Rising Stars program? Contact Progressive Railroading Senior Associate Editor, Julie Sneider at 414.228.7701, ext. 517, or julie.sneider@tradepress.com.