An upgraded and expanded range of locking restraint systems
Problem
Existing solutions for the mechanical locking systems used to restrain railgear equipment routinely frustrate both users and fleet managers. Frustrated by corroded parts or cumbersome operation, operators would often simply bypass these critical safety systems, creating unsafe conditions. Ongoing maintenance and replacement costs of existing damage-prone solutions was irritating to cost-conscious fleet managers. While some customers mandated a simple positive mechanical lock in their specifications, others expressed interest in more complex solutions that required little operator intervention

Click image to view larger
With the upcoming launch of our new RW-1630B railgear line, Diversified Metal Fabricators is pleased to offer customers an upgraded and expanded range of innovative locking restraint systems. The modular, bolton nature of all the below options allows for easy conversion between them to meet job-specific requirements, and simplifies service.
Automatic Mechanical Lock:
DMF's patent-pending Automatic Mechanical Lock system secures the railgear in the highway position and requires no extra steps for the operator. A spring-loaded stainless steel ball automatically secures the railgear in place when raised. The unique, indexable detent can be rotated to expose new wear faces up to 6 times, extending the lifespan of the system without purchasing new parts. Designed for the long haul, The AML system has undergone rigorous cycle-testing, and has been shown to work reliably for many thousands of cycles, even in corrosive environments. Coupled with hydraulic locking valves integrated directly into the cylinders, our new AML system provides a robust and reliable means to restrain the railgear, while completely eliminating extra steps and potential pinch points for operators.
Compact Air Pinoff:
Our new air-actuated design requires less installation space than previous models, while incorporating an industry-first swivel joint that protects the cylinder from damage if the railgear is inadvertently actuated while restrained. Components are zinc plated for corrosion resistance, and a larger diameter locking pin is nearly 5 times stronger than former systems.
Heavy Duty Cable Pinoff:
Relying on an improved push-pull cable that is larger in diameter, yet more flexible than previous designs, DMF's Heavy Duty Cable Pinoff is engineered for years of trouble-free service. Swivel joints prevent cable damage if the railgear is inadvertently actuated while restrained, and a larger diameter locking pin secures the railgear.
Manual Detent Pinoff:
Strong, simple, and economical, DMF's new manual detent pinoff design offers improved strength, corrosion resistance, and ease of use compared to prior designs.
For further information, contact sales@dmfatlanta.com.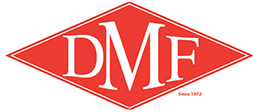 Diversified Metal Fabricators
https://dmfatlanta.com/